My favorite free sewing pattern resources
Summer is coming up, and somehow sewing for summer season is much more fun to me compared to winter. Probably because the colorful woven fabrics that I like to sew with, are more suited for warm weather and summer vibes and we have all the opportunity to become creative with playful designs?
Sewing can be quite an expensive hobby when counting in high quality fabrics and nicely designed sewing patterns with good instructions. However, over the course of my sewing years, I have discovered several blogs and sewing companies that publish free (or pay-what-you-like) sewing patterns for dress making with great designs. These can be a great way to start off on your sewing journey without spending much money to begin with.
First the peppermint magazine publishes four great sewing patterns per year on a pay-what-you-like basis. The patterns are designed in cooperation with alternating indie pattern designers and come with great style and excellent instructions.
The online linen fabric store Fabric-Store offers free pdf sewing patterns that are designed to be made from linen – perfect for breathy summer clothes! They have a large collection of patterns for all kind of clothing types. Instructions come directly on the homepage accompanied with photos of the construction steps. You have to sign up for their newsletter to have access to the free pdf patterns.
Nicole from cool stiches designs unique sewing and knitting patterns that she offers on a pay-as-you-like basis (recommended price is 5 euros per pattern). Nicole lives in Portugal and hence designs patterns suited for hot weather!
Helen from the Helen's Closet pattern company offers a range of free sewing patterns if you sign up for her newsletter. Helen is known for her excellent instructions that make you learn new techniques along the way.
Another collection of great free sewing patterns can be found on the blog by Jasmin from sewing patterns by masin. She has her own collection of patterns that she sells with detailed instructions and has published a list of her favorite free patterns.
Another recommendation for all Vienna-based sewist is the public library! The main library on Urban-Loritz-Platz has a large collection of Burda magazines that can be borrowed for two weeks at a time. They have all the patterns inside; you just need to bring patience for tracing the patterns before getting started.
I can't wait to get started with a new piece for my summer wardrobe. I plan to make the spring shorts by peppermintmag from some leftover linen fabric next. So, what's on your summer sewing list?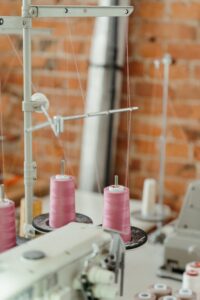 Do you want to get all the Louvart Atelier news directly into your inbox? Below you can subscribe to our newsletter!